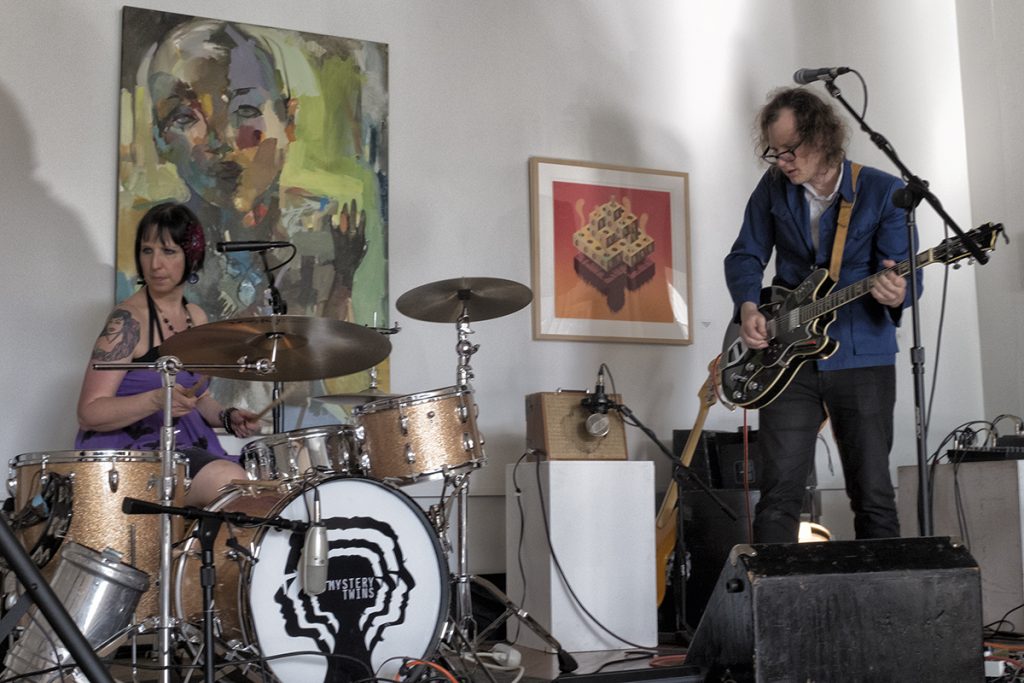 The music scene around here has always been excremental, which I suspect is part of the reason the more creative young people can't get away fast enough once they graduate high school. So when acts from Nashville and Brooklyn played separate venues last night, it was truly something out of the ordinary.
Of course very few people saw either of them, and my wife and I were the only ones to see both.
The Mystery Twins are Nashville-based guitar and drum duo with, unsurprisingly, a White Stripes vibe. They have something of a dark edge, with songs that tend to explore alienation and topics such as misspent childhood. They played the closing of a gallery show that featured Nashville artists.
As was to be expected, a loud alt band freaked out a lot of the New Harmony residents who had either never heard loud music before or had always fled that kind of noise as fast as they could.
I liked them, of course. I just wished they could have played a bar or other darker venue after the gallery show, and done their full show. They are probably the best band, by far, that has played in Posey County, at least since 1972. But New Harmony now has a Nashville music scene connection, so hopefully, there will be a lot more of that in the future. (note to the uninitiated, Nashville is not just Country Music, anymore. It has a thriving alt scene that rivals New York or pretty much anywhere)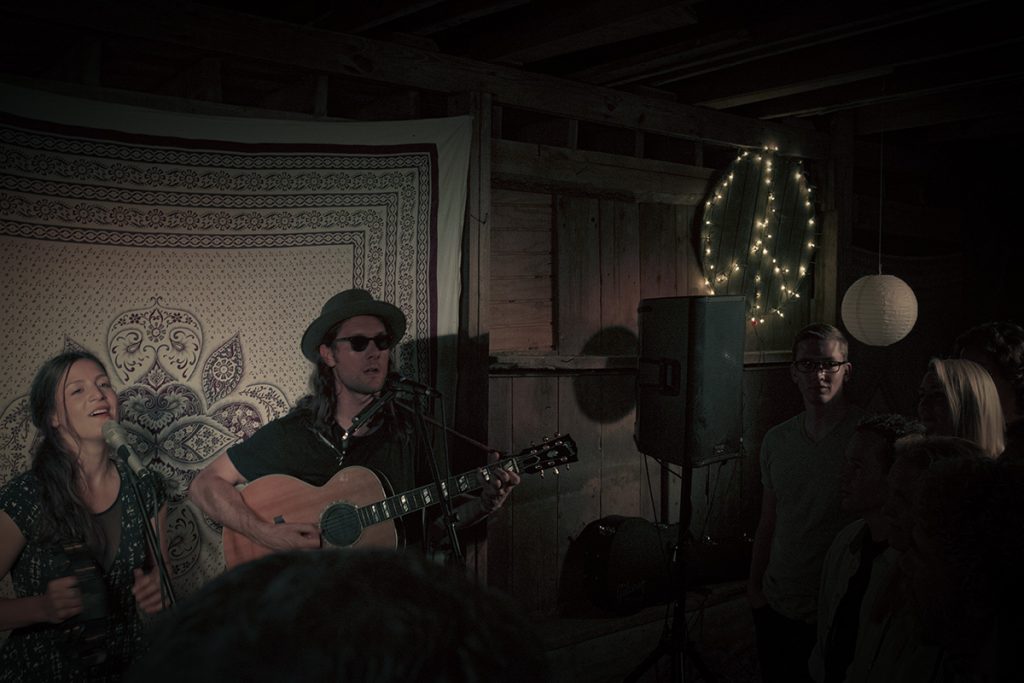 That was followed by a concert by The Bergamot, a Brooklyn-based singer/songwriter duo who are currently on a 50 state tour. They performed in a barn out on a friend's property. It is a nice barn, often used for photo shoots, with good lighting and they brought in quality sound equipment, so it was professionally done. The barn swallows freaked out a bit, but I'm pretty sure they'll get over it.
It all came about because my friend's daughter worked for them in Brooklyn and, as they had a show in nearby Bloomington, they offered to come down and do one here.
Unlike The Mystery Twins, The Bergamot are very positive people who sing mostly happy songs. Although that's usually not my thing, they are highly skilled, very likable, and it was an all around pleasant experience.
And there were actually a few young people at that show, though they were unusual for around here because they were talking about trips to, or stints living, in places like New York, L.A. Austin, etc. There is an overwhelming lack of that kind of ambition from most kids here, so it was refreshing, but I'm guessing they all came down from Bloomington or Chicago for my friend's daughter, who has lived out in the real world and is very obviously planning to get back there real soon.