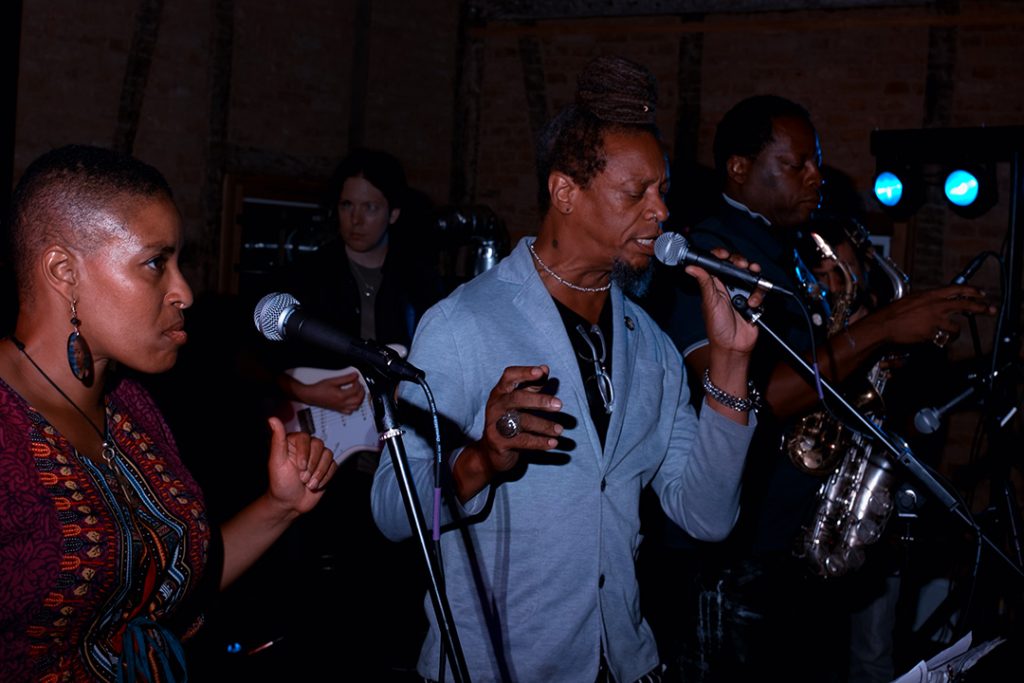 New York's Burnt Sugar, the Arkestra Chamber played Black Lodge Coffee Roasters in New Harmony, Indiana. Burnt Sugar is a collective of over 30 very accomplished musicians. Last night's lineup featured Shelley Nicole and Mikel Banks on vocals, Jared Michael Nickerson on Bass, Micah Gaugh on Sax, LaFrae Sci on drums, Leon Gruenbaum on keysand Ben Tyree on Guitar.
Burnt Sugar 's music moves in and out of many genres, but generally inhabits a Jazz – Soul – Funk space. And as their name implies, Sun Ra is a major influence, but far from the only one. I had one of their records on while driving the other day, drifted off and thought I was listening to Eddie Hazel era Funkadelic, which actually is one of their other primary influences. But their influences are all over the place. They opened the show with "Lonely Woman" the Ornette Coleman classic from his seminal album "The Shape of Jazz to Come,"  which featured incredible drums and sax  from Lafrae Sci and Mica Gaugh.
Check out those links, and check out their music.  And if you like their music, check out Rebellum, an offshoot band with many of the same members that played the New Harmony show. The Rebellum song, Rockstar Amnesiac, was one of the (many) highlights of the show.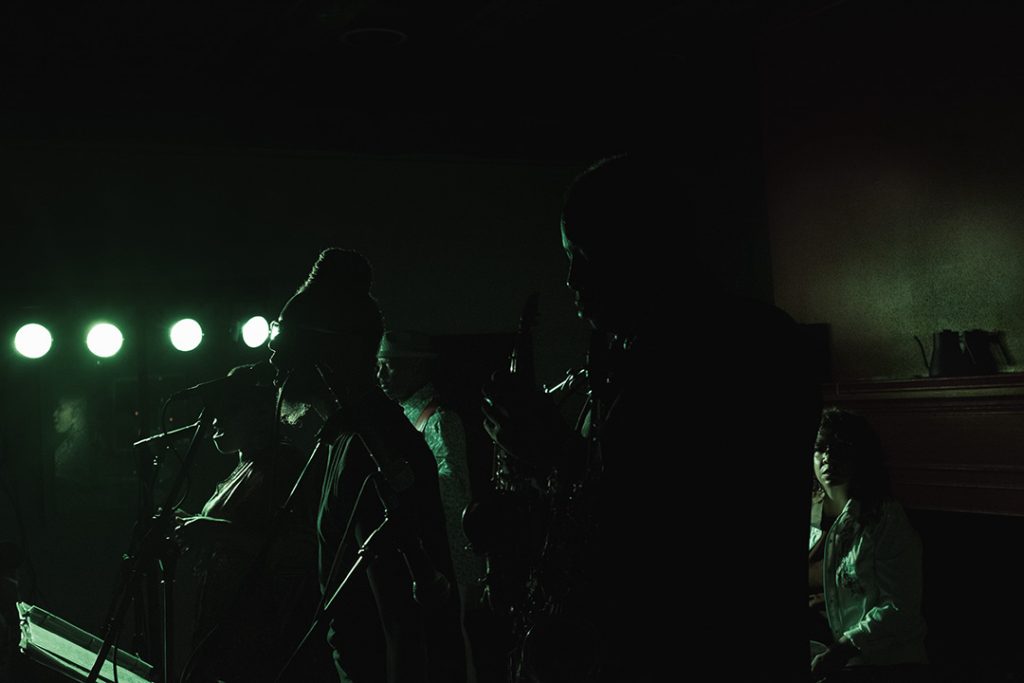 Burnt Sugar made the small town stopover between gigs in Nashville and Chicago.  New Harmony, however, is not just any small town. The site of two early 19th century Utopian communities in the early 19th century and the playground/museum for one of the wealthiest women in the world for the second half of the 20th, it has a long history as a friendly place for artists, musicians, skilled craftspeople, intellectuals, and generally interesting folk.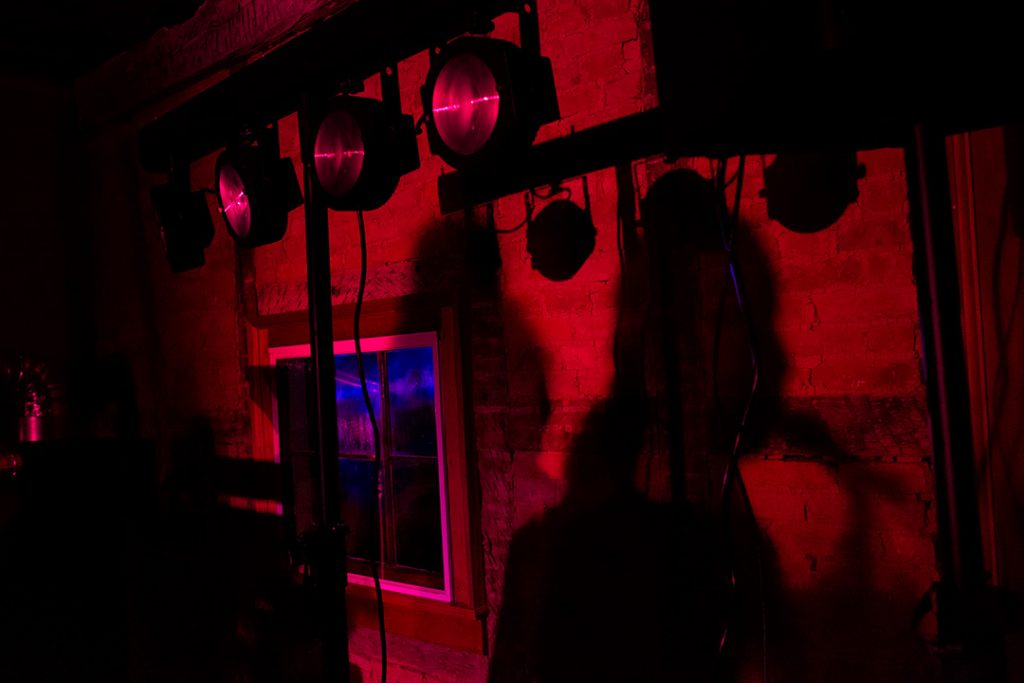 In recent years, a fascinating music scene has been developing in New Harmony. Chris Layer's annual Music Festival and School brings in top flight musicians  from all over, including Mazz Swift, who is also a member of Burnt Sugar, although not part of this particular show. More recently, Marc Chevalier, a longtime Nashville recording engineer and his wife have opened a coffee roasting business and coffee shop and have begun bringing more worldly and alternative bands to town. Marc's sound engineering took last night's concert to the next level. World class band, world class sound, world class little town. Nice experience all around.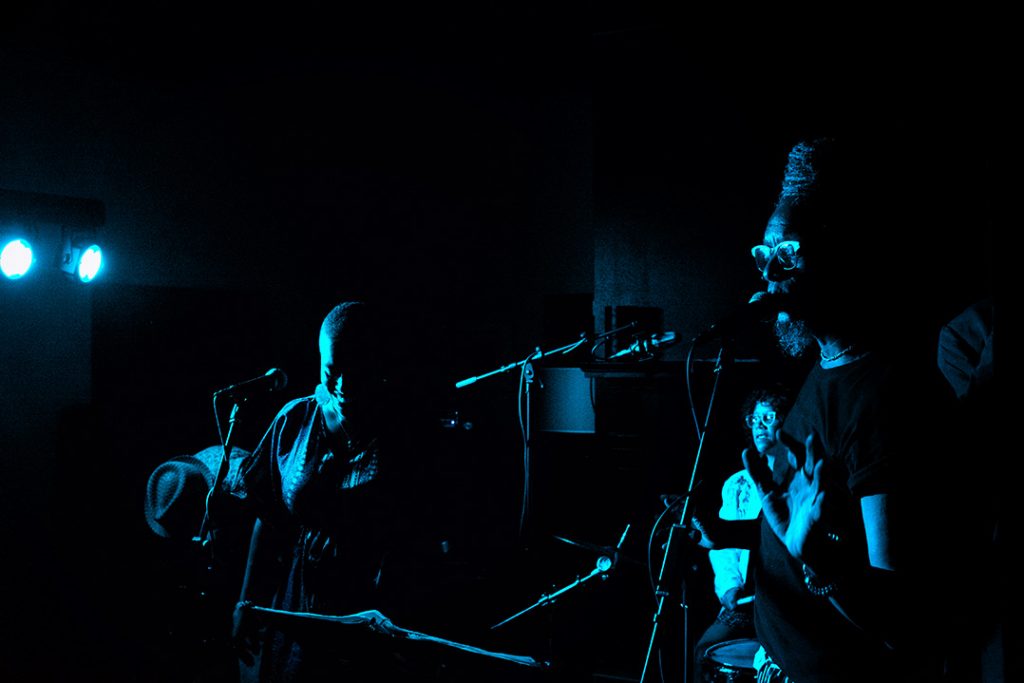 In one of the more extreme examples of what a small world we live in, and how great New York is, Lafrae Sci recognized my wife and I. Turns out she briefly worked at our son's school in Brooklyn 10 or so years ago – and was one of his favorite teachers ever – and she somehow remembered us. Lafrae is one of the world's premiere Jazz drummers. New York is like that. Anyone you meet in the workaday world could be supremely accomplished in some aspect of the art world.
The whole night – great music, talented people at the top of their game – made me really miss the big city. And the happenstance of running into Lafrae did too. You know, lately we've been living in a small town of 7000, and it was more common for us to run into people we knew in Brooklyn that it is to run into people we know here. Hell, it was just about as common running into Dennis Leary in New York as running into high school friends in my little hometown. People in New York get out a lot. Here, not so much. I recognized it a long time ago, but I still find it odd. Brooklyn today, and much of New York City, is more like the small town I grew up in than the current version of small town I grew up in.